THEATRE of HATE 'Black Irony' CD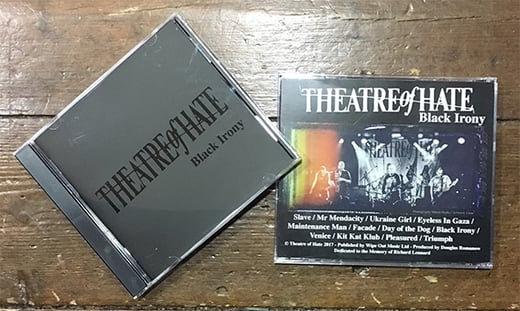 Over 35 years ago, the album 'Westworld' was released. 
It was produced by Mick Jones and engineered by Jeremy Green. 
A follow up album due to be entitled 'Aria of the Devil' was recorded not long after. 
Again engineered by Jeremy Green, up at Wessex Studios in North London. 
On the eve of Theatre of Hate's first American tour, the band broke up. 
Subsequently, 'Aria of the Devil' was never released at the time.
Lives changed, lives moved on. In the last few years, for a variety of reasons, 
circumstances reached a point where the concept of making a new Theatre of Hate
album was talked about between Stan Stammers, John Lennard and Kirk Brandon.
Between live shows TOH recorded what was to be the third studio album 'Kinshi' 
aided by Danny Farrant on drums & Adrian Portas on guitar.
The album was entirely financed by the Theatre of Hate fanbase by way of a 
Pledge campaign. 'Kinshi' was released in October 2016 to the fanbase, and 
reviewed extremely favourably.
The original production idea envisaged by the band, was to bring in a record 
producer and enlist him to do an alternative production of the 'Kinshi' album. 
Canadian producer, Doug Romanow here on 'Black Irony' has done just that.
With this release, we hope you enjoy what Doug's approach has done to it.
THEATRE of HATE October 2017.
TRACK LISTING
Slave/MrMendacity/UkraineGirl/EyelesInGaza/
MaintenanceMan/Facade/DayoftheDog/BlackIrony/
Venice/KitKatKlub/Pleasured/Triumph