SPEAR OF DESTINY 'The Virgin Years' 4 CD Deluxe Box Set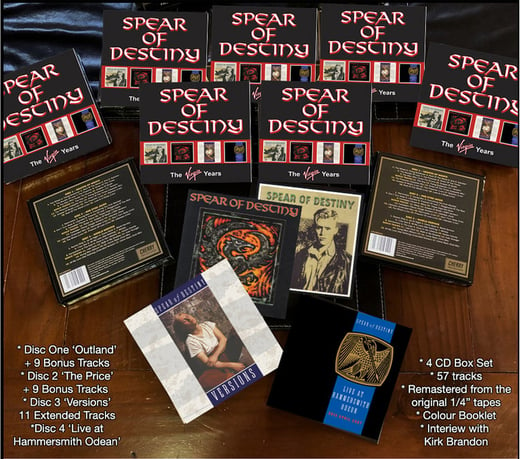 *** PRE-ORDER NOW - SHIPS 28TH AUGUST ***
SPEAR of DESTINY 'The Virgin Years' Four Disc Deluxe Box Set
Remastered from the original tapes for the first ever on CD.
This 57 track 4 CD clamshell box set contains pretty much everything that Spear Of Destiny released on Virgin Records during their time with the label between 1986-88.
Disc 1 is the "Outland" album the No.16 UK chart hit and now comes with nine bonus.
"The Price" which reached No.37 in 1988 is featured on Disc 2 also features Nine bonus tracks.
The third disc is "Versions" and features 11 Extended Mixes.
Disc 4 Has 10 tracks recoreded at the now famed 'Hammersmith Odean' in London on the 30th April 1987.
The booklet features a specially commissioned interview by Vive Le Rock magazine's Eugene Butcher with vocalist Kirk Brandon.
DISC ONE
OUTLAND
1. OUTLANDS
2. LAND OF SHAME
3. THE TRAVELLER
4. WAS THAT YOU?
5. STRANGERS IN OUR TOWN
6. THE WHOLE WORLD'S WAITING
7. TONIGHT
8. MIAMI VICE
9. NEVER TAKE ME ALIVE
10. SOMEWHERE OUT THERE
11. TIME OF OUR LIVES (Original Version)
12. THE MAN THAT NEVER WAS
13. PUMPKIN MAN
14. EMBASSY SONG
15. LAND OF SHAME (Original Version)
16. JACK STRAW
17. LATE NITE PSYCHO
18. STRANGERS IN OUR TOWN (Alternative Version)
DISC TWO
THE PRICE YOU PAY
1. SO IN LOVE WITH YOU
2. TINSELTOWN
3. THE PRICE
4. I REMEMBER
5. DREAMTIME
6. RADIO RADIO
7. IF THE GUNS
8. VIEW FROM A TREE
9. JUNKMAN
10. SOLDIER SOLDIER
11. BRAVE NEW WORLD
12. MARCH OR DIE
13. THE JUNGLE
14. JUNKMAN (Extended Version)
15. LIFE GOES ON
16. SPIRITS
17. MADE IN LONDON
18. RADIO RADIO (12")
DISC THREE
VERSIONS
1. STRANGER IN OUR TOWN (Ext Version)
2. TIME OF OUR LIVES (Dub)
3. WAS THAT YOU? (Psychological Mix)
4. TONIGHT (Ext Version)
5. NEVER TAKE ME ALIVE (Ext Version)
6. LAND OF SHAME (Ext Remix)
7. THE TRAVELLER (Ext Version)
8. WAS THAT YOU? (Ext Re-Mix)
9. SO IN LOVE WITH YOU (Ext Version)
10. NEVER TAKE ME ALIVE (Omar Santana Mix)
11. LAND OF SHAME (Omar Santana Mix)
DISC FOUR
LIVE AT HAMMERSMITH ODEON 30/4/87
1. MIAMI VICE
2. EMBASSY SONG
3. PUMPKIN MAN
4. LAND OF SHAME
5. NEVER TAKE ME ALIVE
6. STRANGER IN OUR TOWN
7. OUTLANDS
8. JACK STRAW
9. WAS THAT YOU?
10. MICKEY