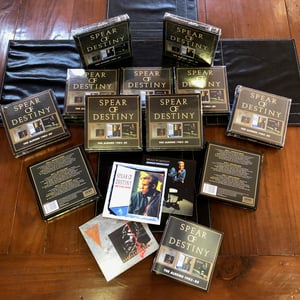 £

19.99
SPEAR of DESTINY 'The Albums 1983-85' Three Disc Deluxe Box Set
+ Personally signed by Kirk Brandon.
+ 6 track bonus Download of previously unheard mixes from 83-85
only when ordered direct from the site.
+ Remastered from the original tapes for the first ever on CD.
This 56 track 3 CD clamshell box set contains pretty much everything that Spear Of Destiny released on Epic Records during their time with the label between 1983-85.
Disc 1 is the debut "Grapes Of Wrath" album and now comes with nine bonus tracks including two cassette mixes never previously released on CD.
"One Eyed Jacks" the band's second album which reached No.22 in 1984 is featured on Disc 2 also features ten bonus tracks.
The third disc is the hit album "World Service" which contains the hit singles 'All My Love (Ask Nothing)' and 'Come Back' and is now bolstered by seven non LP B-sides.
The booklet features a specially commissioned interview by Vive Le Rock magazine's Eugene Butcher with vocalist Kirk Brandon.
DISC ONE
GRAPES OF WRATH
1. THE WHEEL
2. FLYING SCOTSMAN
3. ROOF OF THE WORLD
4. ARIA
5. SOLUTION
6. THE MURDER OF LOVE
7. THE PREACHER
8. OMEN OF THE TIMES
9. THE MAN WHO TUNES THE DRUMS
10. GRAPES OF WRATH
BONUS TRACKS
11. THE HOP
12. FLYING SCOTSMAN (12" VERSION)
13. THE PREACHER (CASSETTE MIX)
14. OMEN OF THE TIMES (CASSETTE MIX)
15. GRAPES OF WRATH (LIVE)
16. THE PREACHER (LIVE)
17. SOLUTION (LIVE)
18. ROOF OF THE WORLD (LIVE)
19. LOVE IS A GHOST (LIVE)
DISC TWO
ONE EYED JACKS
1. RAINMAKER
2. YOUNG MEN
3. EVERYTHING YOU EVER WANTED
4. DON'T TURN AWAY
5. LIBERATOR
6. PRISONER OF LOVE
7. PLAYGROUND OF THE RICH
8. FORBIDDEN PLANET
9. ATTICA
10. THESE DAYS ARE GONE
BONUS TRACKS
11. ROSIE
12. GRAPES OF WRATH (1984 VERSION)
13. FORBIDDEN PLANET (SINGLE VERSION)
14. LIBERATOR (DUB)
15. LIBERATOR (EXTENDED MIX)
16. RAINMAKER (LIVE)
17. DON'T TURN AWAY (LIVE)
18. THE WHEEL (LIVE)
19. PRISONER OF LOVE (LIVE)
20. LIBERATOR (LIVE)
DISC THREE
WORLD SERVICE
1. ROCKET SHIP
2. UP ALL NIGHT
3. COME BACK
4. WORLD SERVICE
5. I CAN SEE
6. ALL MY LOVE (ASK NOTHING)
7. MICKEY
8. SOMEWHERE IN THE EAST
9. ONCE IN HER LIFETIME
10. HARLAN COUNTY
BONUS TRACKS
11. LAST CARD
12. WALK IN MY SHADOW
13. COLE YOUNGER
14. YOUNG MEN (RETURN OF)
15. COME BACK (CLUB MIX)
16. ALL MY LOVE (ASK NOTHING) (EXTENDED VERSION)
17. COME BACK (DUB MIX)